Medical conference coverage requires both knowledge of the therapeutic area and the ability to synthesize key points from several individual sessions into nuanced, meaningful intelligence. At SAI, we compile the pertinent data presented at the conference, provide key takeaways from relevant presentations, and include meaningful summaries coupled with insights from KOLs and prominent experts in the field.
SAI's therapy area experts highlight the most valuable content specific to our client's area of interest, including updates on the current and future landscape of specific disease areas. SAI bridges the gap from intelligence to insight and insights into actionable business decisions.
Here are 10 medical conferences routinely covered by SAI which are happening this fall:
At a glance: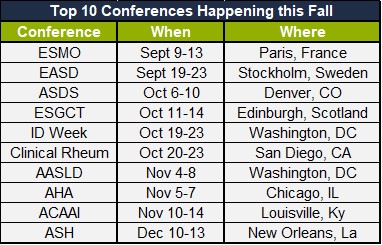 ESMO (European Society of Medical Oncology)
When: September 9-13, 2022
Where: Paris, France
Highlights: advances in antibody-drug conjugates in metastatic breast cancer, targeted treatments in colorectal carcinoma, early cancer management, cell therapies for solid tumors.
EASD (European Association for the Study of Diabetes)
When: September 19-23, 2022
Where: Stockholm, Sweden
Highlights: challenges and best practices in type 2 diabetes treatment, effects of SGLT2 inhibitors on the kidney, cardiovascular system, and diabetes management.
ASDS (American Society for Dermatologic Surgery)
When: October 6-10, 2022
Where: Denver, CO
Highlights: safe and effective combination treatments, skin cancer, regenerative medicine.
ESGCT (European Society of Gene & Cell Therapy)
When: October 11-14, 2022
Where: Edinburgh, Scotland
Highlights: advances in safety and effectiveness of gene delivery vectors, manufacturing and scalability challenges of gene and cell therapy products.
ID Week (Infectious Disease Week)
When: October 19-23, 2022
Where: Washington, DC
Highlights: Clostridium difficile bacterial infection, challenges in treating HIV patients with limited options, pediatric COVID-19 vaccines, pipeline of new antimicrobials.
Congress of Clinical Rheumatology
When: October 20-23, 2022
Where: San Diego, CA
Highlights: new options for treatment of systemic lupus erythematosus, the roles of IL-6 and interferons in rheumatoid arthritis, regulatory pathways in pain management.
AASLD (American Association for the Study of Liver Diseases) The Liver Meeting
When: November 4-8, 2022
Where: Washington, DC
Highlights: latest research on various liver disease states, patient perspectives, new developments in the space.
AHA (American Heart Association) Scientific Sessions 2022
When: November 5-7, 2022
Where: Chicago, IL
Highlights: focus on "improving cardiovascular health" through global education, advocating scientific discoveries, and guiding clinical practice.
Bonus: the special focus AHA Hypertension Scientific Session takes place September 7-10, 2022, in San Diego, CA.
ACAAI (American College of Allergy, Asthma & Immunology)
When: November 10-14, 2022
Where: Louisville, KY
Highlights: non-Th2 asthma management, new approvals in biologics treatments, immunodeficiency beyond immunoglobulin replacement.
Bonus: the Food Allergy Symposium will be happening parallel to ACAAI meeting.
ASH (American Society of Hematology) Annual Meeting
When: December 10-13, 2022
Where: New Orleans, LA
Highlights: latest scientific developments, late-breaking drug approvals, precision medicine in the hematology space.